UPCOMING
June 28 - 30, 2019
Solo Presentation
Art Bodensee
https://artbodensee.messedornbirn.at
June
Group Exhibition
50JPG – 50 Jours pour la photographie à Genève 
www.centrephotogeneve.ch

June 13 - 16, 2019
Art Basel
Solo Presentation
https://www.artbasel.com



In Vorbereitung der Art Basel
____________________________________________________________________________________________________________________________________________________________

CURRENT
May 2019 - August 16th, 2020
Group Exhibition
ICH BIN ALLES ZUGLEICH - SELBSTDARSTELLUNG VON SCHIELE BIS HEUTE
State Gallery Lower Austria, Krems
https://www.lgnoe.at/de/ausstellungen/aktuell/ich-bin-alles-zugleich

May 17th - June 22nd, 2019
Solo Exhibition
30 Years - No Overview
Galerie Croy Nielsen, Vienna
https://croynielsen.com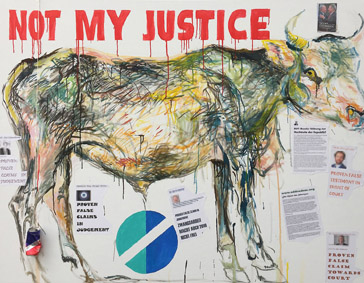 Not My Justice, 2019

May 17 - August 31, 2019
Group Exhibition
Land(e)scapes. Landschaftsdarstellungen in der zeitgenoessischen Kunst, Kunsthaus Muerz, Muerzzuschlag, curated by Andrea Juenger
http://www.kunsthausmuerz.at
____________________________________________________________________________________________________________________________________________________________

PAST
April 13 - April 22, 2019
ART & ANTIQUE Salzburg 2019, Residenz Salzburg
https://www.w-k.art
https://www.artantique-residenz.at

March 26 - April 20, 2019
Kunstgeschichten, Galerie A. Juenger, Vienna, curated by Andrea Juenger
as part of Foto Wien - Monat der Fotografie
https://www.fotowien.at/de/programme-2019/programmausblick/kunstgeschichten/
http://www.galerie-juenger.at
March 9 - April 13, 2019
Protrait, Galerie Bernd Kugler, Innsbruck
https://www.galerie-kugler.at
March 2019
ART VIENNA, Hofburg Vienna, Solo Exhibition
https://www.stayinart.com/art-vienna
https://www.artvienna.org

September - November 2018
LUXUS, W&K - Wienerroither & Kohlbacher, Palais Schoenborn - Batthyany, Vienna, Solo Exhibition
https://www.w-k.art/exhibitions/luxus_2018

Luxus, 2018
March 2018
Rrriot Festival 2018 - Feministisches Fruehstueck
, MAK - Museum fuer angewandte Kunst, Vienna, Discussion with Brigitte Felderer and Sebastian Hackenschmidt, Moderation Janina Falkner
https://www.mak.at/programm/veranstaltungen/
May 2018
Post Otto Wagner, MAK - Museum fuer angewandte Kunst, Vienna, Group Exhibition curated by Dr. Sebastian Hackenschmidt
https://www.mak.at/post_ottowagner



Nur der Stern ist authentisch, 2017
April 2018
5 Positionen, Schloss Kastelbell, Kastelbell-Tschars, Group Exhibition curated by Dr. Elisabeth Maireth
https://www.schloss-kastelbell.com/de/veranstaltungen/
https://www.stayinart.com/ausstellung-schloss-kastelbell/
https://www.tageszeitung.it/2018/05/24/heldinnen/
January 2018
CONDO, hosted by Rob Tuffnel Gallery, London, 4 Person Exhibition
https://croynielsen.com/fairs/condo-london-hosted-by-rob-tufnell-2018/
November 2017
Zwanzig, Galerie Barbara Thumm, Berlin, Group Exhibition
http://bthumm.de/wp-content/uploads/GBT_2017_ZWANZIG_press-release.pdf
September 2017
The Happy Fainting of Painting #2, Galerie Krobath, Vienna, curated by Hans Juergen Hafner & Gunter Resk

exhibition view
October 2017
Book Publication: Mein Bestseller / My bestseller
, Der Konterfei Verlag, Vienna
available at:
http://derkonterfei.com/product/mein-bestseller-teil-1-elke-silvia-krystufek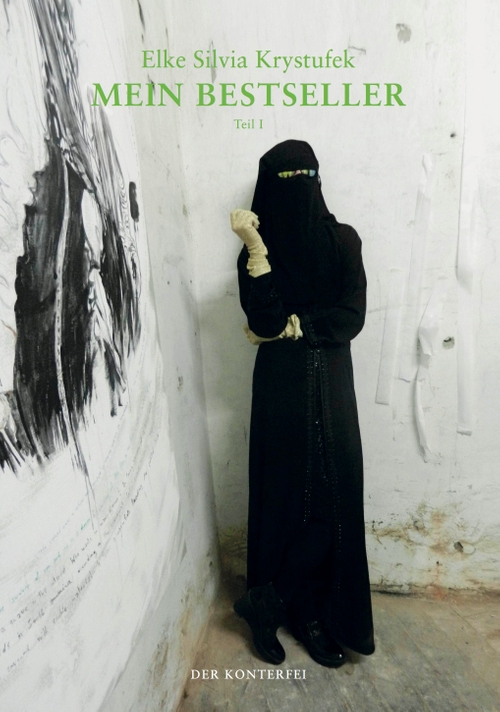 Summary: The new book of Elke Silver Krystufek " My bestseller, Part 1 " deals with Selling. What is sold in which way, how humans sell themselves, how souls are sold and how beautiful it is, to write about all that in a literary manner. The global market has won and lost at the same time. The New York Time titles: "The Ramallah Times has stolen our paper." The Mirror wines: oh no, we would not have wanted to see it this way. The press presses under pressure: Press you button baby. The curier takes everything away and returns nothing. And the crown crowns everything. Only Today prints a little image of the illiterates.
May 2017
Wer bist Du? Portraits aus 200 Jahren, Neue Galerie Graz, Graz, Group Exhibition curated by Guenther Holler-Schuster und Gudrun Danzer
https://www.museum-joanneum.at/neue-galerie-graz/ausstellungen/ausstellungen/events/event/
November 2016
Die Kraft der Fotografie, Museion, Bozen, Group Exhibition curated by Letizia Ragaglia 
http://www.museion.it/2016/11/fotografische-werke-aus-der-sammlung-museion/
Open Studio Day
November 19th 2016, 1pm - 6pm
studio adress: A.E: Koechert, Neuer Markt 15 ,1010 Vienna, phone: 01/5125828
www.koechert.com
Aufgrund ihrer herausragenden handwerklichen Faehigkeiten im Bereich der Malerei, Skulptur und Zeichnung hat sich Elke Silvia Krystufek fuer den Open Studio Day einen Ort ausgesucht, der fuer Handwerk im feinsten Sinne steht: den Traditionsjuwelier A.E. Koechert am Hohen Markt im 1. Bezirk. Anlaesslich des Open Studio Days wird ein noch nie in Oesterreich gezeigtes und von Juwelier Koechert produziertes Werk der Kuenstlerin ausgestellt, sowie eine eigens fuer die Schaukaesten arrangierte Installation in diesem exklusiven Rahmen praesentiert. Die bisherigen Editionen mit Juwelier A.E. Koechert, der "Fingerhakelehering" fuer das MAK 2006 und der 2014 fuer das 200 Jahr Jubilaeum entstandene "Feuerwerksring" werden zu diesem Anlass mit Zeichnungen von noch nicht realisierten Schmuckstuecken kombiniert.


October 2016
In Search of the Present, EMMA- Museum of Modern Art, Espoo (FIN), curated by Pilvi Kalhama, Henna Paunu and Paeivi Talasmaa 
https://emmamuseum.fi/en/exhibitions/in-search-of-the-present/
April 2016
Poetics of Change - Works of the Collections, Museum der Moderne, Salzburg, curated by Sabine Breitwieser, Christina Penetsdorfer, Antonia Lotz
https://www.museumdermoderne.at/en/exhibitions-events/detail/translate-to-english-poesie-der-veraenderung-werke-aus-den-sammlungen/

September 2015
Das Neue Bunt, Showroom Das Neue Schwarz, Vienna, Solo Exhibition
http://www.dasneueschwarz.de/post/129869574230
"Heb", Autocenter, Berlin
"Locals and Immigrants", Galerie Susanne Vielmetter, Los Angeles
"HARMONIE 2", Vegas Gallery, London
"HARMONIE 3", The Box Gallery, Los Angeles
"HARMONIE 5", Galerie Nicola von Senger, Zuerich
"HARMONIE 20", Haus am Waldsee, Berlin
"HARMONIE 8", Le Confort Moderne, Poitiers
"HARMONIE 20", kunstraum am schauplatz & buero weltausstellung, Vienna
"HARMONIE 26", Salon Jirout, Berlin
"HARMONIE 360", Hausmuseum Otmar Rychlik, Gainfarn
"HARMONIE 19", Galerie Meyer Kainer, Vienna
"HARMONIE 32", Galerie Nicola von Senger, Zuerich
"MODE", Combinat, Vienna
"Colleagues", Kronos Advisory, Wien
The archive project has been concluded Dec. 31st 2015 in favour of new productions.

MUSIK
Lyrics and vocals for DISCOZMA
http://www.schamoni.de/musik/jahmoni-music/discozma-st/
https://soundcloud.com/schamoni-musik/preview-jahmoni-music-jmm-201-discozma-ep


Vinyl 12" , 2016


JEWELLERY

Production on Request:
A.E.Koechert, Vienna
www.koechert.com
solo exhibition: W&K, Vienna, email: office@w&K.art, phone: +43 1 533 99 77
works in commission: Galerie Nicola von Senger, Zurich, email: info@nicolavonsenger.com phone: +41 44 201 88 10
works in commission: Galerie Barbara Thumm, Berlin, email: info@bthumm.de, phone:+ 49 30 283 903 47
works in commission: Galerie Croy Nielsen, Vienna, email: info@croynielsen.com phone: +43 676 653 0074
works in commission: 303 Gallery, New York, email: info@303gallery.com, phone: +1 212 255 - 1121


Copyright information: The copyrights of all images, artworks, films and texts on this site remain with the individual copyright holder. Reproduction and downloading of any content is prohibited by copyright laws and international conventions without the express written permission of the copyright holder. All rights reserved. The site itself is © Elke Silvia Krystufek, 2019